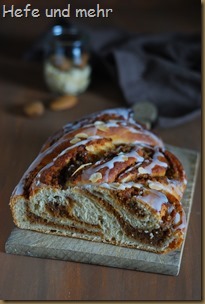 There are traditions I would never break with, like baking a nut braid for my colleagues for my birthday coffee break. Everyone loves this braid, its tender crumb with the generous amout of filling. And the filling helps to keep the braid fresh for a long time, too.
This year, anyway, I had to face a problem. A new colleague is allergic against hazel- and walnuts and is lactose intolerant, too. Luckily she can eat almonds and so I decided to bake a new kind of braid filled with caramelized almonds, tonka bean and a little bit of amaretto. The dough is made with lactose free margarine instead of butter but if you don't have to cook laktose free I would suggest using butter for a even finer aroma.
Like the nut braid this braid is perfect for being taken to work because it tastes best the day after baking when all the different nuances of the spices melt together. The filling keeps the braid soft and fresh. But how much longer it could be kept I cannot tell you because 2 kg of almond braid where eaten from 16 persons in shortest time. Not a crumb was left!
Caramelized-Mandeln-Braid
yields 2 braids
Pâte Fermentée
175g flour Type 550
125g Water
2g fresh yeast
3g Salt
Dough
Pâte Fermentée
325g flour Type 550
60g egg yolk (from 3 Eggs size M)
125g Water
3g Salt
10g fresh yeast
50g sugar
100g Butter (or lactose free Margarine)
Filling
400g almonds
200g sugar
50g Water
100g died bread crumbs
400g Water
Tonka bean
1/2 Tsp. Cinnamon
1 Pinch Salt
30g Amaretto
60g Butter (or lactose free Margarine)
3 egg white
Glazing
100g Powdered sugar
a little bit water
50g roasted almond slices
Mix all ingredients for the Pâte fermentée and proof it for 1 hour at room temperature. Then put the dough into the fridge for 12 hours.
Dissolve the yeast in water, then knead in the kitchen machine with egg yolks, salt, flour and Pâte fermentée for 5 min at slow speed.
The knead 7 min at high speed. Because the sugar inhibits the gluten development, the sugar is added just now. Add always a tablespoon at once and knead in between always for 1 min. At last add the butter all at once and knead until the butter is completely incooperated.
Ferment for one hour, then place the dough in the fridge for another hour. Because of the  cooling you can handle the dough easier.
While dough is fermenting prepare the filling:
Roast the almonds in the oven at 150 °C for 35 min.  Cook sugar and 50g water in a pan until the sugar is dissolved. Stir in the almonds and continue stirring. First the almonds will be coated with with a sandy sugar coat which will melt and starts to caramelize. When the caramel has a nice golden hue, remove the almonds from the pan and let cool on a plate. Ground the caramelized almonds. Now bring water to boil and stirr in the almonds, spices and bread crumbs. Stir the mixture until its starts to bubble. Stir in the butter and set aside to cool down. After cooling fold in the egg white.
Roll the dough to a rectangle of 30 cm x 60 cm, and spread the filling on it. Roll into a log and cut in half.
Place each log on a tray covered with baking paper, then use scissors or a dough scrapper to cut it lengthwise, so you got two strands. Twist both strands around each other and proof the braid for 1.5 hours or overnight in fridge.
Preheat the oven to 200°C and bake for 35 min until golden.
Mix powered sugar and citron juice and glace the almond braid after it has cooled down.
I sent this entry to Yeastspotting, Susans weekly showcase of yeast baked good.