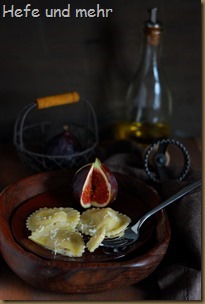 We spent our summer holidays this year near Plön. The landscape is very beautiful there and we enjoyed it so. And we fell in love with the small farmers market in Plön. We bought regional cheese from Ulrikes cheese monger with the great assortment of cheese and fresh fruits and vegetables from an organic farm nearby and we fell in love with the fresh fig pecorino ravioli sold from a small pasta manufactory. They had other great combinations as well (zucchini-sesame or porcino) but the combination of fig and pecorino was gorgeous! We bought them at every market day (twice a week) and even stopped for them on our way back home.
Home again we decided to create a recipe similar to them. Our variation is not a perfect copycat but has its own character. But the ravioli taste divinely, the sweetness of the figs is balanced by the hearty pecorino and both are enclosed by the creaminess of the mascarpone. To let their taste stand out, we served them only with some brown butter and grated pecorino and with a bowl of salad as side. That's enough for a good meal!
Fig Pecorino Ravioli
serves 2-3 Persons
Pasta dough
200g flour
2 eggs size L
10g Olive oil
3g Salt
Wasser if needed
Fig Pecorino Filling
1 fig (70g)
75g Pecorino
125g Mascarpone
1 tsp mild Honey
Salt
Pepper (red Kampot)
Knead all ingredients for the dough until a smooth dough has formed. Let the dough rest under a cover for one hour.
For the filling chop the fig into small pieces and grate the pecorino. Stir honey, salt and pepper into the mascarpone and fold in the fig and the cheese.
Roll out the dough thinly and fill the ravioli with the filling (for the ravioli use your preferred methode, eg. ravioli cutter or ravioli board).
Bring Water with some salt to boil and let the ravioli simmer for 2 min.
For serving turn the ravioli in some browned butter and top with grated pecorino.