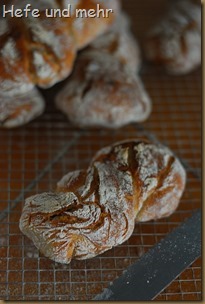 From our kitchen window we could see how our neighbour, the vintner, put the first flasks with young wine (in Germany called Federweißer) in the display. And because we were waiting for the first bottle of Federweißer already, my dearest one directly went to buy some flasks. He came back with to happily fermenting flasks but not before he and our neighour savoured a glass of it together.
And because we enjoyed the Federweißer bread I baked last year so much, I started directly a poolish with rye flour. The idea of using rye instead of wheat flour I got from Dietmar
Federweisser rolls with rye poolish
yields 8 rolls
Rye poolish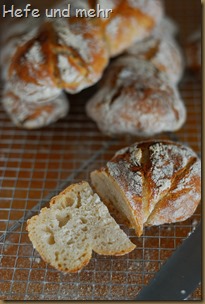 100g rye flour Type 1150
200g Federweisser
Teig
400g flour Type 550
10g sourdough
180g Federweisser
10g oil
10g Salt
In the morning: Mix the ingredients for the poolish and ferment for 10-12 hours on a warm place.
In the evening:Mix all ingredients and knead 5 min at slowest speed, then around 6min on fast speed until medium gluten development.
Ferment over night in the fridge.
The next morning: Heat baking stone in the oven to 250°C.
Flour the countertop and carefully turn the dough on it. Drag the dough into  square and divide the dough into eight equal pieces. Gently twist the bread two times.
Place the bread in a well floured couch and proof for 30 min
Bake on the preheated stone for 15 – 20 min with steam.