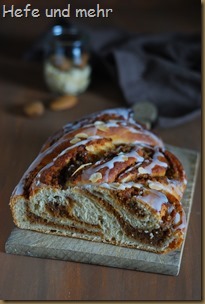 There are traditions I would never break with, like baking a nut braid for my colleagues for my birthday coffee break. Everyone loves this braid, its tender crumb with the generous amout of filling. And the filling helps to keep the braid fresh for a long time, too.
This year, anyway, I had to face a problem. A new colleague is allergic against hazel- and walnuts and is lactose intolerant, too. Luckily she can eat almonds and so I decided to bake a new kind of braid filled with caramelized almonds, tonka bean and a little bit of amaretto. The dough is made with lactose free margarine instead of butter but if you don't have to cook laktose free I would suggest using butter for a even finer aroma.
Like the nut braid this braid is perfect for being taken to work because it tastes best the day after baking when all the different nuances of the spices melt together. The filling keeps the braid soft and fresh. But how much longer it could be kept I cannot tell you because 2 kg of almond braid where eaten from 16 persons in shortest time. Not a crumb was left!