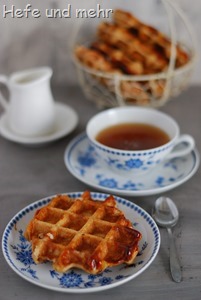 Tired, but happy I look back on the last week. Tired because I came back very late Sunday night just to leave again on early monday to morning to a mass spectrometry training in Frankfurt. Luckily there was not as much snow as forecasted and all trains were in time. Thinking on the bread festival in Berlin makes me still smiling, as it was such a good experience. I'm very happy that I met some of my Readers there!
My short stop at home I used to freeze some bread I brought with me from our baking marathon (Spelt seelen and Wheat and rye bread). So our freezer was still well filled when I came home end of week. So there was no need for baking, but some of the starters demanded some feeding. So what to do with the left overs? As I keep part of my sweet starter on whole spelt flour at the moment I decided to bake my beloved gaufres de liège in a whole grain variant. Some Tonkabean in the dough added some slight marzipan and vanilla notes to the nutty and a bit tarter flavour of the whole spelt flour, rounding the aroma very nicely.
I enjoyed them very much together with a cup of black tea. They were a perfect treat for a relaxing weekend!
Gaufres de liège with sweet Starter (Whole Spelt variant)
Sweet Starter
75g Sweet Starter (Whole grain or white flour)
125g Whole spelt flour
75g Water
Dough
Sweet Starter
200g Whole spelt flour
120g Milk
2 Eggs
50g sugar
1 pinch Salt
1/2 Tonka bean, grated
160g Butter
150g pearl sugar
Mix all ingredients for the Sweet starter and let it rise for 2hours at 30°C.
Add the ingredients for the dough to the starter and knead until homogenous. Now mix in in the pearl sugar. Ferment for another 30 min. Head the waffle iron (for belgian waffles) and place some dough (about 80g) in the middle of the square.
Bake each waffle for about 3 min.