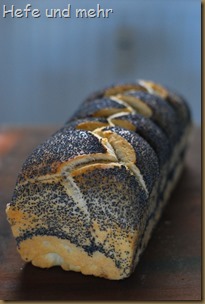 Sometimes I love a good sandwich bread. And then there are long phases it does not appeal me at all. But when I feel a hunger for sandwich bread I tend to bake it as soon as possible. That what happend last weekend.
And so when I saw the beautiful braided sandwhich bread with poppy seeds at Sara bakar I knew how the bread should look like. But I decided to use my own recipe with a combination of sourdough and sweet starter. This combination sounds strange in the beginning, but this combination results in a very mild bread with a slight yoghurt flavour. The sweet starter helps to let the bread rise in a relative short time as well!
The bread has a beautiful soft crumb and a nutty poppy seed crust and tasted so good that it vanished very fast!
Sandwich Bread with Sourdough and Sweet Starter
yields 2 Breads
Sourdough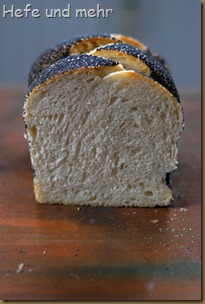 150g Water
150g flour Type 550
10g Sourdough Starter
Sweet Starter (1. Feeding)
Sweet Starter (2. Feeding)
200g flour Type 550
100g Water
Dough
Sourdough
Sweet Starter
590g flour Type 550
200g Milk
175g Water
50g sugar
100g Butter
20g Salt
Topping
Mix all ingredients for the sourdough and ferment overnight (about 16 hours) on a warm place (about 25°C).
For the first feeding of the sweet starter mix the sweet starter from the fridge with flour and water and ferment for 3hours at 30°C
Second feeding: Mix all ingredients for the feeding and  ferment for 3 hours at 30°C
Mix Sweet starter with milk, water, sugar, salt,  flour and sourdough and knead 5 min at slowest speed, then around 10 min on fast speed until complete gluten development. Now add butter and knead for about 2 min until butter is complete incooperated.
Ferment for 2 hours.
Degase the dough and 6 equal parts. Roll each piece into a long thin oval, wet the sureface and roll into a log. Let rest for 10 min, then roll it again along the seam to an long, thin oval, fold the long sides into the middle and roll again tightly to a log. Elongate to strand which is one third longer then the baking pan. Braid each three strands into a braid.
Place each braid in a buttered pan (30 cm long), wet the surface and sprinkle with poppy seeds.
Proof for 3 hours at 30°C or overnight in the fridge.
Bake with steam at 175°C for about 55min.