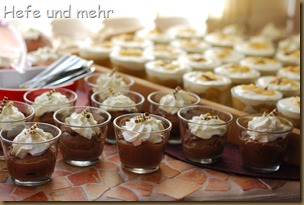 And here we go with the second part of the desserts I made for my nephews christening!
And because serving something with chocolate is never a bad idea I decided to make a creamy chocolate custard topped with some whipped cream.  And as expected it was a hit with adults and with the little ones as well!
Creamy Chocolate Custard with whipped Cream
16 small glasses
Custard
300g chopped semisweet chocolate
50g sugar
1 pinch salt
1 l Milk
80g starch
20g cacao
200g cream
Decoration
200g cream
chocolate curls
For the custard mix 100g Milk with cacao and starch. Bring the remaining milk with sugar and salt to boil and dissolve the chocolate in hot milk. Stir in the starch mixture and bring to boil while stirring. Fill in a bowl and cover with cling film. Let cool down, then use a whisk and stir until smooth. Whip the cream to soft peaks, then fold into the custard. Fill into small glasses and decorate with whipped cream and chocolate curls.