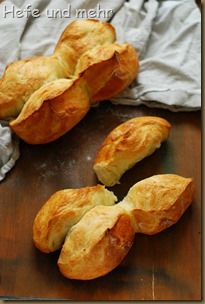 We spent our last summer holiday in the Alsace. And we enjoyed the beautiful landscape, the food and the niece people there very and much – and the bakeries,too! During our holidays I scribbled down a list with breads I had to bake when I'm back home.
Among the breads of this list was the Pain Pavé as well as this Sübrot. Sü comes from Sou which means a very small coin and Brot means bread so Sübrot can be translated to "Penny bread". During wartimes it was a cheap bread that due to its form could be purchased in pieces as well. And even nowadays I was asked if I wanted the whole loaf or only a part of it when I bought it in a Boulangerie in Strasbourg.
Back home, when I decided to bake my own version, I decided to go to a slow rising dough, which fermented over night at roomtemperature. The next morning I divided the dough, shaped two squares and spread a thin layer of oil on top of one of them. The oil layer hast to be really thin to ensure that the bread do not unfold to quickly in the oven, so I removed a part of it again with a paper towel. And that worked very well, indeed. I was sit in front of the oven all the time, fascinated by the unfolding bread.
And the finished bread is a treat, too: Open crumb, crisp crust and a mild but complex taste!