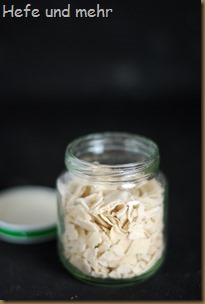 Having a active sourdough like the sweet starter is a good thing. But there is always the risk of loosing. It could starve while you are on a longer vacation or because you have no time for bread baking. Or (worst case scenario) some mould could start to grow on your precious sourdough. And that's when a backup can be handy.
When I grow my sweet starter in December, I decided to test two different methods for storing sourdough: Freezing and drying. And after three months I tested which method provides a faster success when I reactivating. I mixed both the frozen and the dried starter with fresh flour and water and left them on the counter. After 20 hours the dried starter was clearly back to life as I could judge from the increase of volume. A feeding with flour and water showed that it could already triple its volume after 4 hours on 30°C, like it would before freezing.
The frozen starter was barely alive after the same time, only some tiny bubbles suggest that it was not completely dead. But that does not surprise me so much, because during the freezing process the water in the cells of the microorganisms starts to form crystals, which damage the cells. During drying on the other hand the cells form spores to survive  the unpleasant situation and spring back to life as soon as it comes in contact with water and flour.