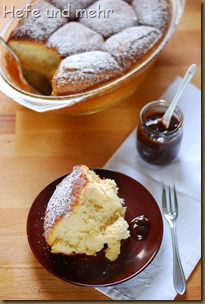 Since weeks I was dreaming of oven baked Dampfnudeln. When I was a kid my mum would bake them for lunch regularly. But my love don't like sweet stuff as main dish and so I make them seldom nowadays. But I love them still so much, especially the slightly sticky, sweet bottom which the dampfnudel gets because they are baked in a milk-butter-sugar mixture.
And so I decided to bake them only for me!
This time I made them with sweet starter and some yeast and they turned out great. Soft and light as air they rose really high. Served with some plum butter or vanilla custard this is a great lunch for people with a sweet tooth.