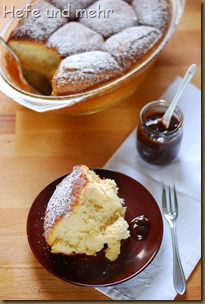 Since weeks I was dreaming of oven baked Dampfnudeln. When I was a kid my mum would bake them for lunch regularly. But my love don't like sweet stuff as main dish and so I make them seldom nowadays. But I love them still so much, especially the slightly sticky, sweet bottom which the dampfnudel gets because they are baked in a milk-butter-sugar mixture.
And so I decided to bake them only for me!
This time I made them with sweet starter and some yeast and they turned out great. Soft and light as air they rose really high. Served with some plum butter or vanilla custard this is a great lunch for people with a sweet tooth.
Dampfnudeln (oven baked)
for a big casserole
Sweet Starter
Dough
Sweet Starter
350g flour Type 550
170g Milk
55g Egg (1 Egg size L)
50g sugar
10g fresh yeast
1 Prise Salt
100g Butter
For the casserole
200g Milk
40g Butter
50g sugar
For the sweet starter mix the sweet starter from the fridge with flour and water and ferment for 3hours at 30°C
Mix Sweet starter with milk, water, sugar, salt,  flour and knead 5 min at slowest speed, then around 10 min on fast speed until complete gluten development. Now add butter and knead for about 2 min until butter is completly incooperated.
Ferment for 1.5 hours.
For the casserole: Heat the milk to 40°C and dissolve butter and sugar, then pour it into the pan.
Form the dough to boules of 80g and place them in the pan.
Proof for 1 hour.
Bake 30min at 200°C.