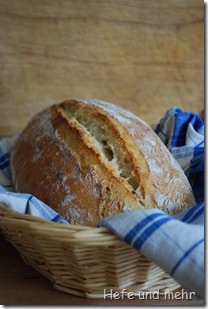 MC posted last week the portrait of the Baker John Tredgold , one of nine Bakers of the Bread Bakers Guild Team USA 2010. They train at the moment for the North American Louis Lesaffre Cup which takes place in Las Vegas in September.
And he gave MC the recipe of the bread that won him a spot in the Team, including a excelsheet with the formula in Bakers percent. The bread sounds great (of course it do. It is a winner recipe). It contains three different preferments: Poolish, biga and sourdough. I love breads with different preferments because they give so much flavour to the bread. So I knew instantly that I had to try this recipe.
JT uses malted wheat flour type 85 (85 mg minerals per 10g flour) and all purpose flour. I only have excess to wheat flour type 550 (55 mg minerals) and type 1050 (105mg minerals), so I sat down with the excel sheet of the formula and start calculating. At the end I came down with a mixing ratio of type 1050 and 550 that should yield a similar dough as mixing type 85 and all purpose flour.