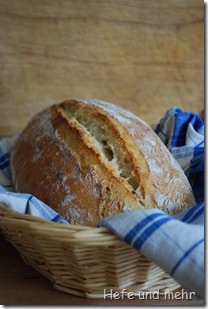 MC posted last week the portrait of the Baker John Tredgold , one of nine Bakers of the Bread Bakers Guild Team USA 2010. They train at the moment for the North American Louis Lesaffre Cup which takes place in Las Vegas in September.
And he gave MC the recipe of the bread that won him a spot in the Team, including a excelsheet with the formula in Bakers percent. The bread sounds great (of course it do. It is a winner recipe). It contains three different preferments: Poolish, biga and sourdough. I love breads with different preferments because they give so much flavour to the bread. So I knew instantly that I had to try this recipe.
JT uses malted wheat flour type 85 (85 mg minerals per 10g flour) and all purpose flour. I only have excess to wheat flour type 550 (55 mg minerals) and type 1050 (105mg minerals), so I sat down with the excel sheet of the formula and start calculating. At the end I came down with a mixing ratio of type 1050 and 550 that should yield a similar dough as mixing type 85 and all purpose flour.
When mixing the dough I realized that the dough was very soft even before the second water addition. So I skip the second water addition and set the remaining 100g Water aside. At the end I had a hydration of only 66% but the dough felt like 75%. I do not know why the flour was not so thirsty this weekend. Maybe it was due to the warm weather? But the gluten structure was fine and the dough developed enough strength when folded three times during fermentation.
When writing the recipe down I forget to include malt in the formula. The dough rose nicely without but the next time I would like to test the recipe with 1% malt added.
At the end I get very delicious breads. I can understand that MCs grandchildren wolfed this bread down. I think our breads will not survive long either.
Before we finish all bread I sent this recipe to Susan's weekly Yeastspotting.
JT's Rustic bread with three preferments
yields 6 breads of 550g each
Biga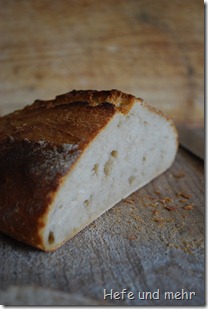 125g flour Type 1050
85g flour Type 550
125g water
0,5g fresh yeast
0,4g Salt (a very small pinch)
210g flour Type 550
230g water
0,5g fresh yeast Hefe
0,4g Salt (a very small pinch)
Sourdough
250g flour Type 1050
170g flour Type 550
230g water
210g firm sourdough starter (60% Hydration)
Teig
460g flour Type 1050
700g flour Type 550
750 g water (thats about 100g less then calculated)
10g fresh yeast
45g Salt
whole Poolish
whole Biga
whole sourdough
Mix Biga, Poolish and sourdough and ferment for 10 to 12 hours at 25°C.
The next morning:  Mix all ingredients for the dough at low speed for  2 min. Let the dough rest for 30 min (autolysis).Then knead the dough for about 2 min at low speed, then 4 min on high speed. Turn the dough on the counter and fold it. Now place the dough in a good oiled container.
Ferment for 1,5 hours. Fold the dough two times during this time (after 20 min and 40 min).
Divide the dough into 550g pieces and preshape to cylinders. Rest for 20 min.
Form batards and place them on couches.
Proof for 1,5 hour.
In the meantime heat the baking stone at 250°C.
Bake the breads for 35 min with steam.