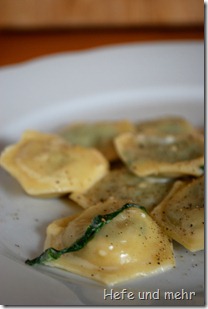 Wild garlic is still in and so some pepole wrinkle their noses if you admit that you like wild garlic, too. But luckily I do not have to run after trends and I do not have to run away from trends. I just eat what I like.
And I like wild garlic very much, so I was very happy when I found some in our Greenbag last week. Instantly I began to plan what to cook with it.
We had no homemade ravioli for a long time, so we decided that we would like to have some wild garlic ravioli. But when I check our fridge I realize that we had only two eggs left and that was the amount I needed for the dough. So I needed a filling without egg. Looking around in the kitchen I saw some bread that was going to become stale on the counter. Some months ago I bookmarked a recipe for ravioli with a bread filling on Mestolo (and I have not cooked it untill now). I take the inspiration for the filling there and mix a filling containing bread, wild garlic and a little bit cream. I soak the bread before in hot water to soften it.
The sauce my boyfriend prepared while I took care of the ravioli was using up leftovers, too. He melt some camembert that got overly ripe in fridge with some cream and seasoned it only with salt and pepper. This simple sauce underlined perfectly to the garlic flavour of the ravioli.
Because Yeastspotting do not only feature beautiful breads and other yeast baked good but also meals cooked with bread I sent this recipe to Susan of Wild Yeast.
Ravioli filled with wild garlic and bread
Pasta dough:
220g flour Type 550
2 eggs
1 pinch Salt
1 tsp olive oil
Filling:
75g stale bread
100g water
1 tbsp cream
100g wild garlic
Salt
Pepper
Sauce:
100g cream
70g Camembert
Salt
Pepper
Knead all ingredients for the dough until the dough is smooth. Rest for one hour.
Dice the bread and soak with hot water for 15 min. Drain the remaining water. Crumble the bread until fine and mix with cream. Chop the wild garlic finely, mix it with the wild garlic and season with salt and pepper.
Roll the dough into thin sheets, then put tablespoons of the filling on the dough, and place a second sheet of pasta dough on top. Seal the edges around the filling and cut into squares. I used a ravioli maker from tupperware for this, which makes it much easier to get nice and even ravioli.
Cook the ravioli in a lot of boiling water until al dente.
For the sauce melt camembert in boiling cream and season with salt and pepper. Mix ravioli with the sauce and serve immediately.