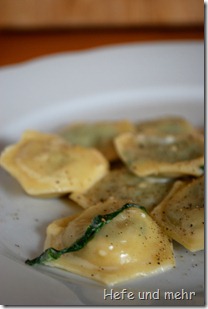 Wild garlic is still in and so some pepole wrinkle their noses if you admit that you like wild garlic, too. But luckily I do not have to run after trends and I do not have to run away from trends. I just eat what I like.
And I like wild garlic very much, so I was very happy when I found some in our Greenbag last week. Instantly I began to plan what to cook with it.
We had no homemade ravioli for a long time, so we decided that we would like to have some wild garlic ravioli. But when I check our fridge I realize that we had only two eggs left and that was the amount I needed for the dough. So I needed a filling without egg. Looking around in the kitchen I saw some bread that was going to become stale on the counter. Some months ago I bookmarked a recipe for ravioli with a bread filling on Mestolo (and I have not cooked it untill now). I take the inspiration for the filling there and mix a filling containing bread, wild garlic and a little bit cream. I soak the bread before in hot water to soften it.