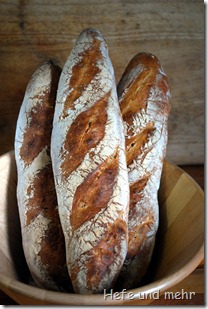 Ketex posted last weekend a recipe for Baguettes with Bean flour. Searching the internet I learned that in french baguettes 2% of Bean flour are allowed.
Bean flower contains a lot of lecithin which improves the structure of the dough, let the bread rise higher and makes a crispy crust. But I thought that it was to expensive to order a packet bean flower for 7 Euro just for a little bit playing around with dough. So started thinking. I had some dry azuki beans in the pantry and the manual of my mill claimed that it can also crack corn (I never tried it). But who can crack corn can also brake beans. And so I throw a handful beans in the mill and get out a nice fine flour. I would not recommend to try it with a mill with stone mill stone but with my mill constructed from steel it was no problem.
Kneading the dough was a easy job but when I taste the dough it taste like raw beans. Luckily the taste vanished during baking.
When I pull the baguettes out of the oven they cracked loudly until they cooled down, telling me that they had a crispy crust and a soft and open crumb. They are really nice, tasty baguettes.
But still I am not sure if this due to the bean flour because I bake delicious baguettes with crispy crust before. A appropriate control is missing. So I have to bake this recipe again, without bean flour. But that does not scare me because the bread is delicious 😉
Spelt Baguettes
Poolish
200g spelt flour Type 630
200g water
1g fresh yeast
Teig
400g spelt flour Type 630
100g spelt flour Type 1050
5g malt
15g bean flour
15g salt
3g fresh yeast
290g water
Mix water, flour and yeast for the poolish and ferment it overnight (10 to 12 hours).
The next morning: Mix all ingredients until homogenous. Let rest for 1/2 hour (Autolysis). In the meantime disolve the yeast in the remaing water.
After Autolysis: Knead the dough for 2 min on slow speed and another 4 min on high speed.
Now place the dough in a good oiled container and ferment for 2 hours. Give the dough four folds during this time.
Folding: Flour your countertop and  put the dough on it. Flat the dough carefully to a square. Now fold the right and the left side to the middle, then from button and top, too. You can find a nice tutorial here.
Divide into pieces of 250g and preshape into squares. Rest for 20 min.
Then roll into baguettes of 30 cm (Flûte) and proof on a couch for 60 min.
In the meantime heat baking stone in the oven to 250°C.
Slash four times and bake the loaves on the hot stone for 25 min with steam, until the crust is golden brown.