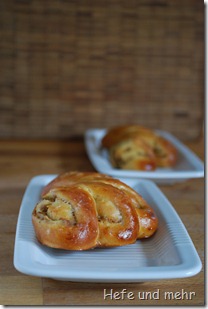 Last Sunday we visit my sister in the new house. Because "it's always good to have some pastry during renovation" (that's what my sister told me early on the phone) I decided to bring something sweet.
I was longing for something fluffy yeasted pastry. So I thought first of my favourite braid filled with nuts. But then I remembered that my parents would join us, too and my mum suffers of lactose and fructose intolerance. So the braid was out of question, we need something without milk and nuts.
So I started to think: What happened when I just leave out the nuts? Then I would end up with dried breadcrumbs as filling. Hmmm. Bread crumb as filling sounded a little bit strange. But on the other hand we eat noodles with sugar and bread crumbs as children, and we liked it. So I give the idea a try and the filling worked out just fine.
Seasoned with Cardamom and Vanilla nobody missed the nuts. And its a good way to used up dried breadcrumbs. Continue reading →