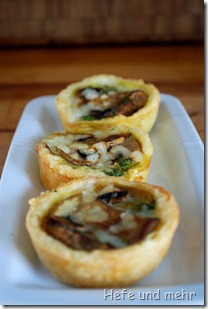 The theme for the sixth birthday of Zorras Blog Event is vegetables "In Hülle und Fülle". That means vegetable either as filling or filled.
To my birthday brunch I serve cute little mushroom quiches. Filled with mushrooms that is maybe not the most creative submission but it fits to theme and the little quiches are really delicious.
As dough I choose the dough I found at Chili und Ciabatta . Petra used it for her kohlrabi quiche. Quiche dough Cafe Solo comes from Nicky of  Delicious Days.
The filling is a simple one: Mushrooms, thyme, parsley, topped with goat gouda.
Baked in Muffin tins they have a perfect size for a Brunch.
You can eat them with two or three bites.