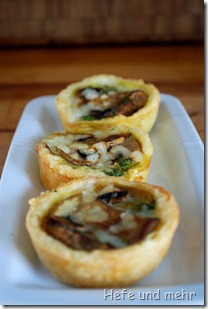 The theme for the sixth birthday of Zorras Blog Event is vegetables "In Hülle und Fülle". That means vegetable either as filling or filled.
To my birthday brunch I serve cute little mushroom quiches. Filled with mushrooms that is maybe not the most creative submission but it fits to theme and the little quiches are really delicious.
As dough I choose the dough I found at Chili und Ciabatta . Petra used it for her kohlrabi quiche. Quiche dough Cafe Solo comes from Nicky of  Delicious Days.
The filling is a simple one: Mushrooms, thyme, parsley, topped with goat gouda.
Baked in Muffin tins they have a perfect size for a Brunch.
You can eat them with two or three bites.
Small Mushroom Quiches
for 8 Quiche
Dough:
65g really cold Butter
65g Curd
100g flour
4g salt
Filling:
200g Mushrooms
1 Egg
50g milk
20g goat gouda, finely diced
Salt
Pepper
Thyme
Parsley
Place the Butter for 30min in the freezer. Place Curd, Flour and salt in a bowl and then coarsely grate the frozen butter into the flour. Mix everything with a spoon, then form fast to ball. There should be pieces of butter be visible. Place for 15 min in the fridge.
Roll thinly (about 4 mm) and cut out circles with a Diameter of 9cm.
Grease 8 muffin tins(Diameter: 7 cm) and line with dough. Place again in the fridge while you prepare the filling.
Slice Mushrooms and sauté them in a pan. Season with salt, pepper, thyme and parsley. Let cool, then fill in the dough lined tins. Mix the egg with the milk and pour the mixture over the mushrooms. Sprinkle with cheese and bake at 160°C for 20 min.