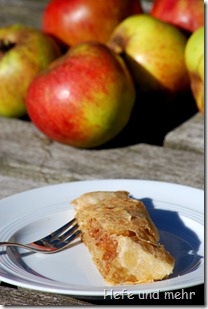 If anyone thought we finished the topic "Apples" already, he or she was mistaken. Every time I stroll through my parents garden, I come back with a arm full apples. And when I look at these apples they are the best because they came from the branches high in the tree, out of reach for ladder and apple picker, sun-kissed and heavenly red and sweet.
And so we are still cooking and baking with apples. This weekend I did some appel strudel with homemade strudel dough as dessert for lunch on Sunday. The filling I choose is a very simple one, just apples, sugar and breadcrumbs. No nuts, cinnamon or raisin, letting the apples shine with their great taste. We served the apple strudel with some whipped cream.
I found the filling in a old cookbook my mom own, "Wiener Küche" from Olga and Adolf Hess, published in second Edition in 1949 which my mom inherited from my granduncle. I love this book. It is ancient, it is filled with great recipe and good advices. I love to file through the yellowed pages to find inspiration and Ideas. I could although buy it as the new edition ( 43.Edition!), but I don't like this. I would miss the decades that this book has seen.
Apple strudel
Dough:
150g flour (Type 550)
70g water
5g vinegar
25g oil
1 Pinch salt
Filling:
750g apple
60g bread crumbs
30g Butter
30g sugar
For Glazing:
Knead all ingredients for the dough until a smooth und elastic dough is formed. Let rest for at least 30 min.
In the meantime prepare the filling: Peel the apples and slice thinly. Brown butter in a pan and  roast bread crumbs until golden, then add the sugar and caramelize the crumbs while stirring continuously. Remove from the pan and let cool.
Roll the dough thinly, brush with some oil and rest for 10 min. Now flour two tea towels or another big cloth. Place the dough on the cloth. Place the hands under the dough and stretch carefully while moving the hand outwards. Repeat until the dough is so thinly that you can read a newspaper through the dough. Cut the thick edges.
Brush the dough with melted butter and cover one half with the breadcrumbs. Now place the apple slices on top of the bread crumbs. Roll into a log with help of the cloth and place on a baking tray. Glaze with butter and bake at 175°C for 45 min.