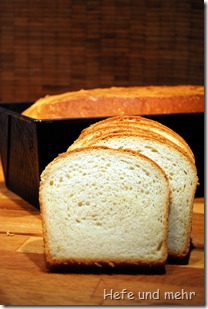 This bread results from a misunderstanding. My boyfriend asked if I could bake this delicious "Toastbrot" again. He was thinking about this bread that I baked already in different a Variation for last World Bread Day. I used this fast and easy recipe often in the last month because it is delicious and easy. And delicious and easy recipes were what was needed in the last busy month.
But I would never call it "Toastbrot". It is very soft and fluffy for a whole wheat bread but typical "Toastbrot" is a white bread for me.
So I designed a recipe for a soft white sandwich bread and vanished into the kitchen. And when I just started to put the loaves into the pans my boyfrind look into the kitchen, take a look into the pans and asked me puzzled what I was baking. Well, that's toastbrot, isn't it?
Luckily both of us liked the white version, too and after we finished the loaves I bake the Joghurt-Honey-Whole wheat bread for him, too!
This is my bread for these years World Bread Day and I send it to Susans Yeastspotting, too.
Toastbrot
Pâte fermentée
250g flour (Type 550)
180g Water
2g fresh yeast
5 g Sat
Water roux
50g flour (Type 550)
250g water
Dough
whole Water roux
whole Pâte de Fermentée
1kg flour(Type 550)
200g cream
300g Milk
1 Egg
20g Salt
40g sugar
15g fresh yeast
Mix all ingredients for the Pâte fermentée and knead for 3 min, then ferment it for 1 hour at room temperature. Then put the dough into the fridge for  at least 12 hours.
For the water roux whisk water and flour until lump free, then heat it up to 65°C (needs about 3 min) while whisking. Fill the water roux in a bowl, cover its surface with cling foil and let it cool down to room temperature.
Mix all ingredients for the dough 5 min at slowest speed, then around 8 min on fast speed until complete gluten development
Ferment for 1,5hours.
Divide the dough into 2 parts and flatten to an rectangle. Rest for 30 min. Now degas the dough (to NOT knead!) and roll tightly to  loaves.
Place in a buttered pan and proof for 1 hour.
Bake with steam at 250°C for about 35min.