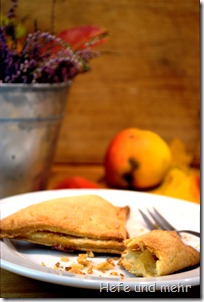 It is time to use up the last apples of this years apple harvest. Now the remaining apples are at the end of their shelf live, so they start to shrivel now.
I saw apple turnovers at Chili und Ciabatta some days ago and I like the idea to bake some turnovers. But I love turnovers which dough is mellow and flaky. So I decided to use a variaton of the dough of this mushroom quiche. I added some sugar to the dough and reduced the amount of salt, so it fits to a fruit filling.
The filling is a simple one: some Vanilla, sugar and apples, bound with a teaspoon starch.
The turnovers are delicous, the dough is like I liked them and stay fresh at least for two days. It is the dessert for my lunch at work.
Apple Turnover
Dough:
250g Curd
250g cold Butter
70g sugar
380g flour Type 405
1 Prise salt
Filling:
100g water
1 tsp starch
1/2 Vanilla bean
20g sugar
500g apples
For the Filling peel apples and cut into pieces. Whisk water with sugar and starch, then add vanilla bean and apple pieces. Boil shortly, then cool down in a water bath.
For the dough place the Butter for 30min in the freezer. Place Curd, Flour, sugar and salt in a bowl and then coarsely grate the frozen butter into the flour. Mix everything with a spoon, then form fast to ball. There should be pieces of butter be visible. Place for 15 min in the fridge.
Roll thinly (about 4 mm) and cut out squares with a length of 15cm. Place some filling in the middle of a square and fold the dough into a triangle.
Bake at 180°C for 15-20 min until golden.