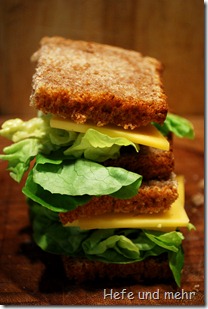 I liked to eat some soft Whole Wheat bread similar to the yoghurt honey bread which I like very much. But on the other hand I baked this bread often in the last month, so I wanted to try some new recipe.
My plans were: 100% Whole wheat, moist and and soft. And with a complex taste.
So I prepared a whole wheat sourdough and a whole wheat poolish and used a water roux to add a little bit more moisture.
To achive a good gluten development I do a one hour  Autolysis and then knead for a long time because a good developed gluten network is the key to a regular crumb with small pores.
The bread meets my expectations: Soft and moist with a long shelf life and aromatic because of the sourdough, the poolish and with a subtle sweetness of the honey. A good bread for my lunch break sandwich.
I sent this bread to Yeastspotting, Susans weekly showcase of yeast baked bread.
Whole Wheat Sandwichbread
Sourdough
15g Sourdough Starter
150g Water
150g Wheat, freshly milled
Poolish
1g fresh yeast
150g water
150g Wheat, freshly milled
30g Wheat, freshly milled
150g Water
Teig
whole Water Roux
whole Sauerteig
whole Poolish
650g Wheat, freshly milled
300g Water
50g Oil
50g honey
20g Salt
Mix water, flour and starter for the sourdough and ferment it overnight (12 to 16 hours) at 25°C.
Mix water, flour and yeast for the poolish and ferment it overnight (about 12 to 16hours).
For the water roux whisk water and flour untill lump free, then heat it up to 65°C (needs about 3 min) while whisking. Fill the water roux in a bowl, cover its surface with cling foil and let it cool down to room temperature.
Mix alle incredients untill homogenous and let rest for one hour (Autolysis). Knead 5 min at slowest speeed, then 10 min on fast speed untill complete gluten develolpment
Ferment for 1,5 hours.
Divide the dough into 2 parts and flatten to an rectangle. Rest for 30 min. Now degas the dough (to NOT knead!) and roll tightly to  loaves.
Place in a buttered pan and proof for 2 hour.
Bake with steam at 200°C for about 50 min.