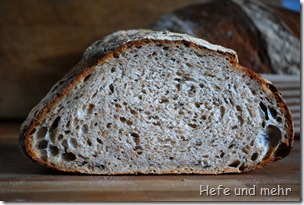 I love caraway seeds. And so I fell in love directly when I saw Martins Caraway seed bread on his blog Pain de Martin. And while I need a long time to bake the Sourdough bread with roasted oats
this time I bake this bread nearly immidiatly.
It is a bread without prefemend but the long bulk fermentation (simmilar to the yoghurt sesame rolls) creates a nice aromatic taste.
It is a perfect bread for days at which I have no real time to bake but at which Ilike to have freshly baked bread. The evening before I mixed the dough and fold it every 30 min for three times. That helps to develope the gluten network. Then I let the dough rise overnight for about 10 hours. The next morning I turned oven on dircelty after I get up. Then I made me a cup of coffee and formed the bread loaves. While they proofed I had enough time to get ready for the day and made breakfeast. After Breakfeast, at 8.30, I pulled flavoursome loaves out of the oven.
The bread is delicious with a thin crust and a soft crumb, with a intense taste of caraways. One of the breads I prefere to eat just with some butter and fleur de sel.
Caraway Bread
250g wheat, freshly milled
750g flour Type 550
700g water (+20g if needed)
4g fresh yeast
20g Salt
10g caraway (whole seeds)
Dissolve the yeast into the water and add the mixture to the other ingredients in a big bowl (about 5l). Mix all ingredients for the dough, if not all of the flour can easly incooperated add another 20g water. Let it rest for 30 min, then fold it from the outside of bowl into the middle for three or four times. Let rest for 30 min again, then fold the dough and repeat the resting and folding steps one time more. Ferment the dough overnight (8 – 10 hours).
The next morning: Shape the dough into two oval loaves and proof for 1 hour in well floured breadforms.
Slash the loaves directly before baking.
Bake for 35 min at 250°C with steam on a hot stone.
I send this bread to Susans Yeastspotting, a weekly showcase of yeast baked goods.