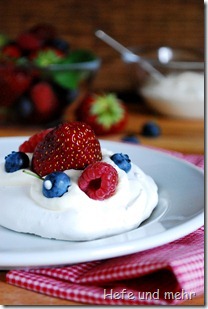 Why did I wait so long until I tried this recipe? I don't know! It is a simple recipe with three components that promise dessert heaven on earth: Meringue, cream and fresh fruits. And like Eton Mess  the magic of pavlova consists of this mixture of crunchy and soft, sweet and sour and this made the dessert irresistible.
I saw Pavlovas on many food blogs before: Claudia bake them, and Paule, Nicky and Barbara made them some time ago, too. And every time I read one of their posts I thought: I have to try this! But I didn't do it until this weekend. When we bought some delicious berries (strawberries, blueberries and raspberries) I decided that they would be great for a pavlova.
I like the miniature version of the dessert that Claudia bake and so I decided to do single portion pavlovas with a diameter of only 10 cm and a little pit in the middle to keep the cream.
The recipe is really simple only waiting for the meringue to bake/dry takes some time. And you will be rewarded with a delicious dessert for your patient waiting! A great recipe for the summer!