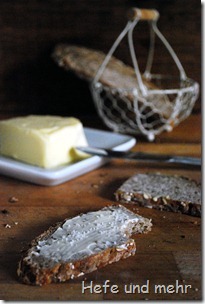 Its time again for a whole grain bread her in the Blog. The last weeks I baked mostly Breads I posted before but last weekend I created a new recipe, using two of my favourite ingredients: rolled oats and buttermilk.
I proofed the breads in baskets in the fridge and they develop a lot of aroma during the proofing. I was very skeptical in the beginning, when I read that in Tartine they proof sourdough breads in the fridge. Its a methode I used for breads made with yeast before, but I was afraid, that sourdough breads would be to sour. And I really don't like sour bread. But nothing like this happend and now its one of my favourite proofing methods! It seperate preparing dough and baking and that is the perfect method in stressful times for me.
The bread has dense crumb and is rather moist, which enhance its shelflife. It's a delicious and filling basis for lunch break.