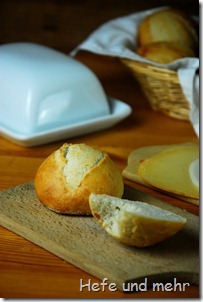 The submission deadline for Bread baking day moves nearer. And since this time I am the hostess of BBD, I should post my "overnight" recipe in time!
And so I have here a recipe for Sunday rolls which is prepared on Saturday around lunchtime. Due to the fact that the yeast amount is so small, the dough can rise about 16 hours at room temperature without any problem and the long fermentation creates a complex flavour. The next morning I will then form the rolls and let them rise during heating my baking stone. Two hours later the still a little bit sleepy boyfriend and me will sit on the breakfast table, enjoying fresh coffee and oven fresh rolls.
When I need a bigger amount of rolls I tend to form the first batch, wait about 20 min and then form the second batch. So all of the rolls go into the oven at the point where they are perfectly proofed.
Sonntagsbrötchen
yields about 18 Brötchen
Milk roux
30g flour Type 550
150g Milk
Dough
all of the Milk roux
1000g flour Type 550
50g Milk
500g Water
30g sugar
1g fresh yeat
20g Salt
90g Butter
For the milk roux whisk milk and flour until lump free, then heat it up to 65°C (needs about 3 min) while whisking. Fill the water roux in a bowl, cover its surface with cling foil and let it cool down to room temperature.
Mix all ingredients for the dough  and knead it for about 5 min at low speed, then 10  min on high speed.
Ferment overnight (about 16 hours)
The next morning preheat the oven with the baking stone to 250°C. In the meantime  divide the dough into pieces of 80g each. Shape each piece into a roll.
Proof 40min on the seamside.
Slash the rolls lengthwith and bake for about 20 min at 250°C with steam.
I sent this entry to Yeastspotting, Susans weekly showcase of yeast baked good.