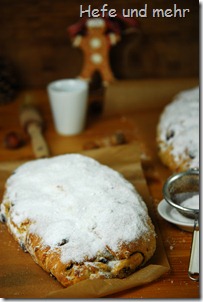 There are only two weeks left until the first Advent! So its really time to bake some Christstollen.
I baked, without a change (!), my Christstollen recipe – like I did it in the last four years. I know that its unusual for me not to change a recipe, but this recipe did not only convince me but although my gourmet collegues and my unbribable honest father.
This christstollen stays very moist due to the water roux I included in the recipe and the spices I use (vanilla, mace, cardamom and cinnamon)makes it very delicious. Only a little bit of patient is needed because the Christstollen should be rest for some weeks before eating it. It needs the time so that all aromas can infuse the stollen and merge to a heavenly taste.
The recipe can be found here and the "How to form a christstollen" can be found here.
I sent this entry to Yeastspotting, Susans weekly showcase of yeast baked good.