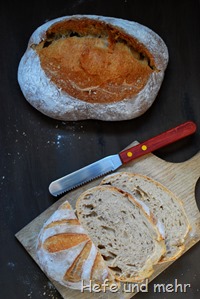 During hot summer days I prefer light breads. Breads like Baguette or Pain de Campagne bring a reminiscence of french summer days in our life.
For Pain de Campagne, which is although called French country bread, you can find thousand and one recipes and forms. Everyone seems to have his/her own recipe. But most of the breads are made with levain, a wheat based sourdough, and with a small portion of whole rye or whole wheat flour. And so I added some rye flour and levain for my variation of Pain de Campagne, too. A long, cold fermentation phase helps to build a complex flavour.
The bread has a airy crumb with big holes and a dark brown, crunchy crust. A delicious bread that goes very well with some French cheese and a big bowl of salad.