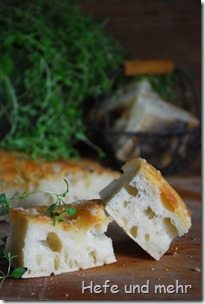 Bread Baking Day celebrates its 6. Birthday! In 2007 Zorra started this Bread Baking-Event and since then bakers from all over the world met virtually already 60 times. I participated for the first time in 2009. Since then I try to be a regular part of the event. For two times I was already  hosting BBD. Time is flying!
Each Bread Baking Day has its own theme and for this jubilee Zorra wishes "Bread with Glazing". What kind of glazing she left to ourselves.
I had to think for some time about a recipe but at the end I decided to bake a focaccia. Focaccia is glazed with olive oil and sprinkled with salt and herbs prior to baking.  The olive oil soaks the crust during baking and adds a delicious flavour to the dough. It is a great bread for the summer (even when its raining all the time)!
Dear Zorra, all the best to the Event-Birthday!