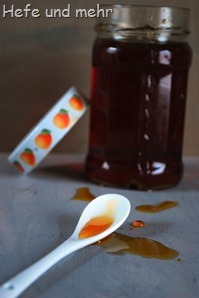 Summertime is Ice cream time!
Finally the temperature rose about 25°C and testing new recipes makes a lot of fun once again. Since I bought some Ice lollies forms I test different Ice lolly recipes as well. And a key component for icecream with a creamy consistence is invert syrup.
Invert syrup consists of glucose and fructose and can easily made from normal sugar (sucrose). Sucrose consists of glucose and fructose, connected by a glycosidic bond. This bond can be destroyed when the sugar is dissolved in water, mixed with acid and this mixture then is heated. The acid and the heat help to break the bond, and the water is build into the single sugar molecules.
These reaction can be done easily at home, using citric acid, sugar and water. It can be done either at the stovetop or (and that is the easiest method)in a slowcooker. A little bit chemistry for the kitchen.
Invertsyrup
1kg sugar
500g Water
5g citric acid
5g Sodium bicarbonate (Baking Soda)
Mix sugar with Water and citric acid, and  place the mixture in the 4.5l Slowcooker.
Cook 6 hour at High.
Now add the baking soda (Be careful! It will start to foam heavily!). Wait until the foam disappears, then fill the syrup into jars. The Syrup keeps well for at least one year.