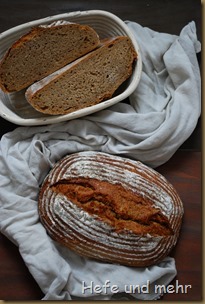 There was no bread left in our freezer, the drawer was completly empty, all the bread was eaten! So it rtime to stock it up again! But what should I bake? Looking around in the kitchen I rembered my spent grain flour and decided to bake a brewer bread once again.
It is always amazing how dark the dough turns when I add the spent grain flour. But when you consider that it has a fibre content of 50%, it is not so suprising! To soak the spent grain flour properly, I scalded it together with oat bran and spelt flour in hot whey. The smell of this hot soaker was incredible, malty and flavoursome!
The soaker keeps the bread fresh for a long time, and makes a great, soft crumb. I like the bread very much, it has a deep malty flavour with a hint of nuts – it's a new favourite!
Brewer Bread with Whey
Sourdogh
200g Spelt flour Type 630
140g Water
20g sourdough
Soaker
Dough
Sourdough
Soaker
300g flour Type 550
200g Spelt flour Type630
200g rye flour Type 1150
30g malt (inactive)
10g Butter
350g whey
22g Salt
5g fresh yeast (optional)
Mix water, flour and starter for the sourdough and ferment for about 12 -16 hours at 25°C.
Mix the ingredients for the soaker in boiling whey and let it cool down to roomtemperature.
For the dough knead all ingredients 5 min at the slowest speed and 8 min at higher speed until medium gluten development. Now add the soaker and knead until incooperated.
Let rise for 1.5 hours
Divide the dough into two parts and form to two oval breads.  Place in two floured brotfroms.
Proof for 12 hours in the fridge or for 2 hours at roomtemperature.
Hheat the baking stone at 250°C for 1 hour prior to baking.
Prior to baking, place on a peel and cut lengthwise. Place the breads in the oven with steam. Turn the temperature back to 200°C after 10 min and bake the bread for another  40 min .
I sent this entry to Yeastspotting, Susans weekly showcase of yeast baked good.