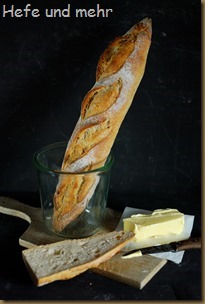 This Weekend I planed to bake the Baguettes which Sara posted on her Blog. But when I mixed the poolish I ran out of white flour. It was already late evening, it was cold and raining and I did not want to leave home again to run to the supermarket. Instead I checked what was left: rye flour was no alternative, but white spelt flour and a darker wheat flour was looking very good.  And because the planed recipe was now out of discussion I mixed a bigger batch sourdough with the darker wheat flour and made an autolysis dough with the spelt flour.
The next morning I kneaded the dough by hand and let it rise for the hours at room temperature with some folds in between. Then we left home to buy and plant some apple trees with my spouses parents. When we came home late afternoon I heated the oven and formed the dough to baguettes. When I pulled the loaves from the oven they smelled divined. So we ate one while still warm. And it tasted as good as it smelled. Crunchy crust, middle open crumb and a deep, complex flavour due to the two preferments and the cold fermentation. A unplanned bread which turned into a favourite!
Wheat Spelt Baguette
yields 3 Baguette
Poolish
100g flour Type 550
100g Water
1g fresh yeast
sourdough
100g flour Type 1050
100g Water
10g sourdough
Autolysis
200g spelt flour Type 630
140g Water
Dough
100g flour Type 1050
10g Salt
Poolish
sourdough
Autolysis
Mix all ingredients for the sourdough and let it rise for 12  hours at 25°C.
Mix the ingredients for the poolish and let it rise for 12  hours at 25°C.
Mix the ingredients for the autolysis and let it rest for 12 hours at roomtemperature.
The next morning mix flour with poolish, autolysis,sourdough and salt and knead for 5 min by hand.  Let it rest for 60 min, then fold it from the outside of bowl into the middle for three or four times. Let rest for 60 min again, then fold the dough again. Let rise for another 60 min, fold again, then ferment the dough for 8- 24 hours in the fridge.
Heat baking stone in the oven to 250°C.
In the meantime divide into pieces of 270g and preshape into squares. Rest for 20 min.
Then roll  gently into baguettes of 30 cm and proof on a couch for 35 min.
Slash four times and bake the loaves on the hot stone for 25 min at 250°C with steam, until the crust is golden brown.