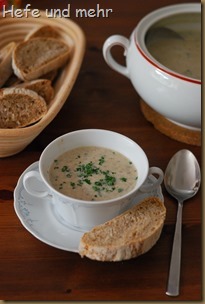 As soon as the thermometer drops below 10°C I start longing for soup. It is already half year ago that my sister served us this particular soup (that's when I made this picture) but since fall started I cooked it already more than once.
It is an easy and fast dinner, especially when I come home freezing. Then I just need about 10 min in the kitchen and a warming soup is ready. Served with a slice of Baguette or a piece of Bread and I'm a happy person again.
Mushroom soup
4 Servings
250g Mushrooms
40g soft Butter
40g flour Type 405 or 550
500g vegetable broth
250g Milk
100g cream
Salt
Pepper
2 Tbs chopped Parsley
Chop the mushrooms
Mix flour and butter to a homogenous dough,
Bring Milk, broth and crean to boil and add the mushrooms. Let simmer over low heat for 5 min, stir occasionally. Now add the flour-butter in small pieces and stir until it dissolved. Puree the mushrooms, season with salt and pepper and sprinkle with parsley before serving.