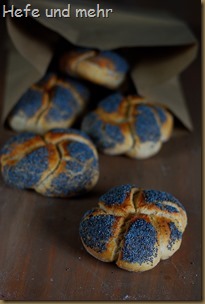 A short look through the kitchen cupboards produced a open glass of yoghurt, some boiled potatoes form our Lunch and a leftover of whole rye flour. Together with a little spoonful of sourdough (a idea I copied from Günther Weber) I kneaded them to a dough and let them rise over night. The next morning I formed and baked some rolls from this dough which rose highly while we splept.
The rolls I served shortly later for breakfast had a soft, fluffy crumb and a great complex flavour. A great roll for breakfast or brunch!
Potato Knots
yields 9 rolls
Dough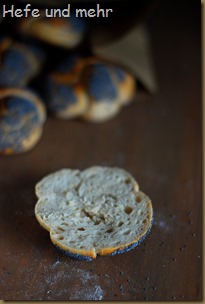 125g Yoghurt
275g boiled Potatoes (Mashed)
100g Whole rye flour
300g Flour Type 550
25g Butter
40-60g Water
10g sourdough
10g Salt
2g fresh yeast
Knead all ingredients in the kitchen machine 5 min at slow speed and 5 min at high speed.
Ferment overnight at roomtemperature (about 10 hours).
The next morning divide the dough into pieces of 90g each. Roll each piece to a strand with a length of 40 cm Make a knot of the strand, then put one free end in the middle and tuck the other under the roll. Sprinkle with poppy seeds or sesame if you like (see a how to do here)
Proof 1 hour, in the meantime heat the backing stone in the oven to 250°C.
Bake for about 20 min at 250°C with steam.