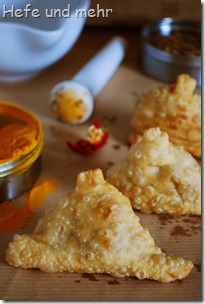 Normally I blog about bread and other delicious things and not about politics. But like Eva I feel stunned about the Pegida demonstrations. And I want to shout loudly: "You are not "the nation"! You are not representing the majority!" And everyone who walks side by side with neonazis is not longer walking in the middle of society but on the very rim! And so I follow Sherrys Appeal and state my opinion here. I want a Germany where we welcome every other culture and in which everyone can find a home. A Germany in which we act upon the human right declaration:
"All human beings are born free and equal in dignity and rights. They are endowed with reason and conscience and should act towards one another in a spirit of brotherhood. Everyone is entitled to all the rights and freedoms set forth in this Declaration, without distinction of any kind, such as race, colour, sex, language, religion, political or other opinion, national or social origin, property, birth or other status. Furthermore, no distinction shall be made on the basis of the political, jurisdictional or international status of the country or territory to which a person belongs, whether it be independent, trust, non-self-governing or under any other limitation of sovereignty. "
In my little corner of the world we often experience other culture through food.
My (former and actual) colleagues have their roots in Iran, India, France, Thailand, Germany, Taiwan, Turkey and Sweden. And we all love to meet at our "Buffet of the nations" to try new foods from all over the world. We eat indian currys and persian rice, french cheese, summer rolls and spring rolls, turkish lentil patties, swedish cinammon rolls and german pretzels. We eat, talk and laugh. We are colleagues and friends. And at the end of the day I stand at the stove together with one of my colleagues and she teaches me how to fry samosas.
We all love her samosas so much. When she brought them for the first time, they never reached the buffet. On the way through the kitchen everyone "steal" a just a little bit until the plate was empty. So this time she tripled the recipe and even then the samosas were gone in shortest time, leaving only some crumbs on the plate.
For the indian cusine it is very important to roast the spices before grinding them, as my colleagues told me more than once. And this is so true – the flavour of the spices during grinding was mouth watering! And with roasted seeds the samosas really taste as they should, with a deep flavour of cumin and coriander and some hot pepper to make it spicy. The dough is made with ghee and here it is important to really use ghee because it taste so much better then with oil (I tested another recipe before I got the "real" recipe).
And with this samoas I want to celebrate the colourful life with all the cultures living here. I love that you enrich my life!
Samosa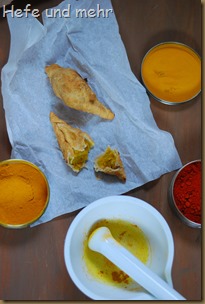 yields 16 Samosas
Dough
250g flour Type 405
75g Ghee (Room temperature)
5g Salt
about 50g Water
Filling
1/2 Tl Koriander seeds
1/2 Tl cumin seeds
hot pepper to taste
300g starchy potatoes
3 onions
1 Tsp. curcuma
Salt
oil for frying
For the Dough knead all ingredients until a soft but not sticky dough has formed. Divide the dough into 8 equal parts, form into balls and let it rest under a cover for 30 min.
In the meantime roast coriander, cumin and hot pepper in a pan until they start to scent deliciously and got a golden hue. Fill them in a bowl and set aside to cool down. Now peel the potatoe, cut into cubes and cook until tender. In the Meantime peel and slice the onions into thin rings. Cook them on low heat until tender, but still pale. Place well drained potatoes and onions in a bowl.
In a mortar grind coriander, cumin and hot pepper to powder. Season the potato-onion-mixture with salt and spices to taste. The potatoes will have the consistence of mashed potatoes now.
Now roll the  dough into ovals with 3mm thickness on a slightly oiled counter. Now half the oval and form it to a cornet, fill it with the filling and close it carefully. Here is a great Video How-to!
Heat the oil to 175°C and fry the samosas until golden.