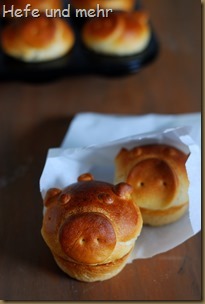 The pig as lucky charm is very common in Germany on new years eve and new years morning.  They are called "Glücksschweinchen" which literally means "Lucky pig". Often they are made with marzipan and used to decorate the table. For the first day of 2015 I baked in a muffin tin some little pigs made of sweet yeast dough.
I can not remember where I got the idea. A quick search in the internet just provided the side from the Doktor from Bielefeld but I'm quite sure that it was not this side… But wherever I got the idea in first place it is a very sweet one for sure!
I used the dough from my my new favourite braid (with some minimal modifications) because after some time in the fridge the dough is so easy to handle. And when you let the pigs rise long enough before placing the nose, eyes and ears on it they will not loose their face! And so you will have a delicious and sweet looking treat for breakfast, which hopefully brings good luck for whole 2015 for us!
Little pigs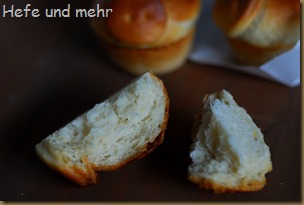 yields 12 pigs
Sweet Starter
Dough
Sweet Starter
420g flour Type 550
150g cream
60g Water
60g sugar
50g Butter
55g Egg (1 egg size M)
10g fresh yeast
4g Salt
seeds of 1/4 vanilla bean
peels of 1/4 orange
Dekoration
Mix the ingredients of the sweet starter and let it rise for 4 hours at 30°C.
Knead all ingredients except sugar and butter for 5 min at slow speed. Then knead 7 min at fast speed. Now add the sugar in small increments and knead until the sugar is incooperated before adding the next sugar. At last add the butter all at once. Knead to full gluten development.
Let rise overnight in the fridge or  for one hour temperature plus 1-2 hours in the fridge.
Divide the dough roll it into 12 pieces of 75g plus about 50g leftover dough. Cover the leftover dough and set aside. Form the remaing 12 pieces of dough into balls and place them into the well buttered muffin pan. Brush lightly with beaten egg.
Proof for 100 min. The rolls should double their size during that time.
After proofing knead shortly the leftover dough, then roll it into 0.5 cm thick plate. Cut out circle of 5 cm diameter and make to holes for the nose. Place them on the side of the rolls. For the ears, cut little triangles (1 cm site length) and fold them together so they got a pig ear shape. Roll little dough balls for the eyes and little strands for the pig tail. Place them on the rolls as well. Brush again with egg.
Bake at 180°C for about 20 min with steam.
Tip: If you want to use a biga instead of a sweet starter, mix 80g flour Type 550, 40g water and 0,5g of fresh yeast. Let the biga ferment in the fridge for at least 16 hours.