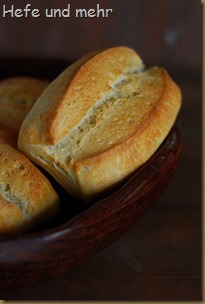 For quit some time I have an idea in my mind. I would like to start a small series of blog post with recipes and explanations for bread baking beginners where the single posts build on each other, explaining all the basics need. I would start with rather fast and simple recipes without kneading or forming and end with more complex recipes with a preferment.
What do you think? Would this be interesting for you?
For the beginning I come up directly with a recipe. It is a recipe for rolls made with some sour cream. They are delicious with a crisp crust and a soft crumb and perfect for breakfast on lazy weekends.
For me, baking these rolls is a good start to begin with bread baking. There is no kneading or shaping involved, only some time is needed because the dough rise overnight in the fridge. But we are sleeping during this time anyway so it does not matter so much. This long cold rise has some advantage. The gluten (that are the proteins that keeps wheat based dough together) can develop without kneading, the rolls develop a deeper flavour because of fermenting by-products  which the yeast releases into the dough and the next morning we only need another 45 min between preparing the rolls and pulling them from the oven.