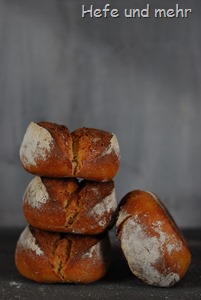 Today we jump back once again to simple recipes without preferment because I got some mails asking if the sourcream or yoghurt can be replaced somehow to make the recipe free of lactose or vegan. The obvious idea was to replace the yoghurt with soy yoghurt and that was what I was suggesting. But I don't like to advice something I did not tested and so I bought some soy yoghurt. And just repeating a recipe is borrowing and so I started to create a new recipe.  It contains a bit of rye flour which adds a hearty note to its flavour, the soy yoghurt give subtle sourness to the rolls. The crust is crisp, the crumb soft. And I can say that exchanging yoghurt with soy yoghurt works perfectly well!
Soy yoghurt rolls
yields 10 rolls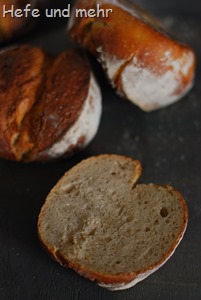 400g Soy yoghurt
10g fresh yeast
10g Salt
25g Oil
100g whole rye flour
400g flour Type 550
Knead all ingredients for the dough for 10 min by hand. The dough should be now soft, but not sticky.
Let the dough rise over night in the fridge (or for 1 hour at room temperature).
Divide the dough into 80g portions. Flatten the dough a little bit and start to fold the dough in the middle. Repeat until a springy ball has formed.  Turn it with the seamside down and roll it to a long shape. (For more experienced persons: lay a piece of dough in front of you and lay your hand on the dough. Start to circle your hand fast while bending the hand slowly, to create tension on the dough. At the end the roll should be nicely round and springy. On the bottom, a little hole will form- Now roll it to a long shape)
Allow them to relax for about 15min, press them down gently and cut them lengthwise very deeply, about 3/4 through the roll. Lay the cut together once again and turn the rolls on the cut.
Proof for 35 min.
Preheat the oven to 250°C.
Turn the rolls, so that the cut side face upside once again, and place them on a paper lined baking tray. Mist with water and bake with steam for about 20 min at 250°C. For really crisp rolls turn to convection mode during the last 5 min.