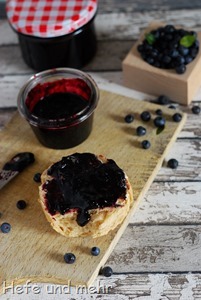 It's early in the morning, the air is nicely warm and the wind carries the fungous smell of moist forest ground. All around us are blueberry bushes in the light shadow of birches and pine trees. This means summer for me! Slowly we pick berry and berry. After two hours I feel completely relaxed and our basket contains one kilogram of Blueberries.
Back home we washed the fruits, picked out the leaves and started to cook blue berry jam. Again we decided to go for the purist version using just blueberries, sugar and lemon juice. The lemon juice adds some tartness and is important for the gelling process. Together with sugar the acid is needed to bring the pectin molecules closer together to form pectin chains which is the reason why the jam  is gelling.
And as I had the feeling that recipes for jams made without jelly sugar is interesting for some people, is here my recipe for blueberry jam:
Blueberry Jam
yield 6 small glasses
1kg wild Blueberries
1kg sugar
70g lemon juice
Wash the berries and put them dripping wet in a big pot (at least 6l pot). Add sugar and lemon juice and bring the berries to boil while stirring. As soon as the berries swim in their own juice, reduce the temperature and simmer the berries for about 15-20 min, stirring occasionally.
Test on a cold plate for gelling. Fill into pre-sterilized glasses. Put a lid on an let cool.