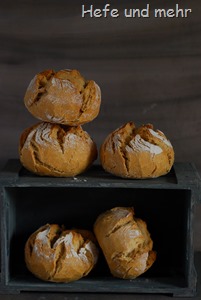 I hope that you did not start to think that there is no bread baked in our hose anymore. But the hot weather and the start into a new job make me bake less. So we emptied the bread drawer in our freezer (very good, more room for new bread) and I baked "old" favourite recipes like lye rolls or a Sunday braid. Going back to old favourites is sometimes very good, too.
But now the freezer is empty, the temperature is back to tolerable and so I baked rolls for breakfast last Sunday. Nowadays I add some egg yolk into the dough for rolls most of the time, as the lecithin helps to make the crumb tender. The dough is good for rising at cold temperature over night as well, but then you have to take care of degasing it carefully the next morning. Otherwise the crumb of the dough will be to open, and for a breakfast roll I prefer rolls with a even crumb. Big holes and honey goes not well together.
The rustic look of the rolls is gained by baking them seam side up. I was a little bit inpatient (we wanted breakfast!) and put them in the oven ten minutes to early. So they had a huge oven spring. For a more decent look I would suggest to give them this little bit of time and included this already in the recipe.
Rose Bud Rolls
yields 10 rolls
Sweet Starter
Dough
Sweet Starter
200g flour Type 550
50g rye flour Type 1150
160g Water
20g egg yolk
20g inactive Malt
20g Butter
10g salt
5g fresh yeast
Mix the ingredients of the sweet starter and let it rise until its volume doubles (for 2-4 hours) at 30°C.
Knead all ingredients for the dough 5 min at slowest speed, then around 5 min on fast speed.
Let the dough rise for 90 min on room temperature (or overnight in the fridge).
Before starting to form the rolls preheat the oven with the baking stone to 250°C. Divide the dough into pieces of 85g each.
Preshape to a ball and let it rest for 10 min.
Now lay a piece of dough in front of you and lay your hand on the dough. Start to circle your hand fast while bending the hand slowly, to create tension on the dough. At the end the roll should be nicely round and springy. On the bottom, a little hole will form. (Here is a niece how to" video).
Place the rolls on a well floured couche or tea towel on the bottom side (with the hole).
Proof for 45 min.
Prior to baking turn the rolls upside down (the side with the hole facing now upwards).
Place the rolls into the oven, reduce the temperature to 210°C and bake with steam for 15 min, then release the steam and bake for another 5 min with convection.