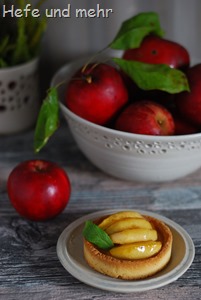 Our whole flat is filled with apple flavour. In front of the kitchen there is a whole bucket of "Jakob Lebel" Windfall Apples waiting to be processed and in the living room I placed a big bowl with dark red "Pomme de Coeur" (Sternrenette). This is another old heritage apple variety and a joy for the taste buds and nose: flavourful, aromatic, delicious. And it's dark red colour makes it a joy for our eyes as well.  With so many apples in the house baking some apple cakes is a must. And as I got this beautiful tiny tartelett rings as birthday present using them was a must as well. I decided to go for a recipe from Matthias Ludwigs "Törtchen und Torten".
The interesting thing about the recipe is the fact that the tartelettes are prebaked on a perforated baking sheet. The steam can escape through the holes and the shortcrust stays flat without fussing with baking beads. This works suprisingly well.
The mixture of caramel custard and apples is delicious, and the shortcrust is perfect after one day in the fridge, so it is a great recipe to prepare in advance!
Caramel Apple Tartlettes
yields 10 Tartletts with 8 cm Diameter
Short Crust
100g Butter
100g sugar
1 Prise Salt
5g Egg yolk
250g flour Type 405
25g Milk (add more, if the dough stays crumbly)
Caramel Custard
30g sugar
1 pinch Salt
150 g Milk
10g starch
1 egg yolk
Caramel Apples
100g sugar
4 big Apples (Sternrenette, Jakob Lebel, Cox Orange)
Glazing
Cream Butter with sugar, salt and egg yolk. Then add flour and milk and knead until a homogenous dough has formed. Chill in the fridge over night (or for at least one hour). Roll the dough to 4 mm thickness and line 10 tartlette rings (8 cm diameter). Bake on a perforated baking sheet for 12-15 min at 150 °C convection mode.
For the caramel apples peel the apples, remove the core and slice them. Melt the sugar in a big pan on medium heat. When the sugar starts to caramelize, add the apples and cook them in the caramel until tender while turning them every now and then.
For the custard melt the sugar on medium heat. Let it caramelize then add the milk. Let it simmer until the caramel dissolved. Meanwhile, mix starch, salt and egg yolk. Add 1 Tablespoon of the hot milk, then stir the mixture in the boiling milk. Let it  cook until the mixture  thickened.
Fill the custard in the tartlette shells and place the apples on top. Melt the apple jelly and glaze the apple with it. Llet it cool in the fridge for at least two hours, better over night