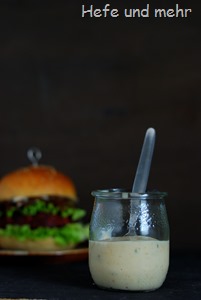 For a good start in our weekend I cooked some delicious burgers. And making burgers means always preparing everything fresh, from bun to the patty and the sauce. Add something special, I decided to make a honey mustard sauce.
The basis for it was a thick syrup made with vinegar and honey, flavoured with some celery. This was then mixed with egg and mustard and oil to make a good mayonnaise. The finishing touch was a pinch of green curry powder and some cress.
So simple and so delicious!
Honey Mustard Mayonnaise
30g honey
40g vinegar
1/2 stem celery
1 heaped tbs. mustard
Salt
1/8 Tsp. green Curry powder
1 Egg
180g canola oil
2 tbs. cress
Cook honey, vinegar and celery to a thick syrup. Remove the celery and place the syrup in a high and slender mixing jug. Let cool to room temperature.
Mix the syrup with egg, mustard and spices. Add the oil and move the hand blender up and down to form a stable mayonnaise (takes just seconds).
Stir in the cress and serve.