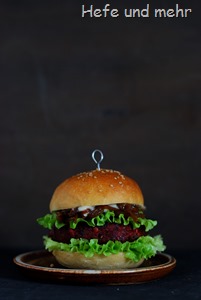 Finally I found it: my perfect vegetarian Burger patty. It is a Aubergine, Beetroot and Champignon mushroom patty which is hold together by chickpeas, rolled oat and buckwheat flour. And this means the patty is not only vegetarian, it is vegan. And it is easily made gluten free by exchanging the rolled oats with rolled millet. An important point for a good binding is to use soaked, uncooked chickpeas and not canned one!
For the mixture of vegetables I tested already different compositions. Already my last try contained mushrooms and beet, and the idea to use aubergine was spontaneously but good. The aubergine adds a good texture to the patty while mushrooms and beet add a deep, earthy flavour which goes well with the hint of smokiness due to the pimenton de la vera. And finally I'm happy with the consistency as well as they have a juicyness without being soft. The patty stays well together while eating and is not mashed like the previous versions.
Together with homemade burger buns (see below or here (vegan) or here), some lettuce, caramelized onion and sauce it is a fantastic burger!