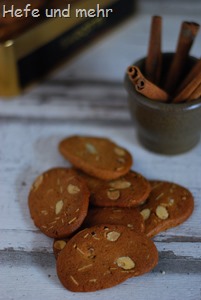 When Petra bake Jodekager last year, I realized that it has been ages since I bake the very similar Brune Kager. I couldn't find my old recipe and so I read different swedish recipes to reconstruct it according to my memory. It is a kind of gingerbread which is made with a light syrup. And as I read the labeling of this light syrup in the supermarket some weeks ago and learned that is just made of glucose and invert syrup, I went directly for my homemade Invert syrup instead. This knowledge is really useful as I have always invert syrup in the pantry for making ice cream!
The Brune Kager made with Invert syrup turned out as good as I had them in my memory: thin, crisp and so delicious!
Brune Kager
120g brown sugar
60g Light syrup or homemade Invert syrup
125g Butter
3g Salt
250g flour Type 405
1,5 Tsp. Cinnamon
0,5 Tsp. grounded ginger
0,5 Tsp. Allspice
1 pinch nutmeg
3g Potash (potassium carbonate)
60g almonds
25g sliced almonds
Warm Butter with sugar and syrup until the butter melted and the sugar dissolved. Mix flour with potash, spices and almonds and stir in the butter-syrup mixture. Knead to a homogenous dough and form to a roll of 6 cm diameter. Wrap the roll and cool for 1 hour in the fridge.
Preheat the oven to 180°C
In the meantime slice into 2mm slices and place them on a paper lined baking tray.
Bake at 180°C for about 7-8 min.