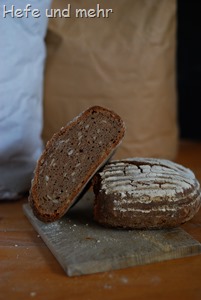 I had a nice email exchange with a reader some time ago. She just had started her own sourdough starter and had some questions about it. One was how to replace the bought dried sourdough with her own one. She mailed me the recipe and I adjust it so that it is sole leavend by sourdough. To ensure that the sourdough is strong enough, it is fed twice. I although added a soaker for seeds, to ensure they can take up enough water. As I changed much of the handling as well, add the end there are just the same ingredients but a complete different recipe. But it is worth while as it yields an aromatic, moist bread with a well balanced mild soudough flavour.
As the bread is bake as two loaves set next to each other it is a great bread to be shared with friends. A Bread where one half looks like a twin of the other half. A real "twin bread"!
Twin Bread
yields 1 Twin Bread
Soaker
50 g Sun flower seeds
100g Water
Sourdough I
3g strong, lively Sourdough
30g Water
15g whole rye flour
15g whole spelt flour
Sourdough II
Sourdough I
60g Water
30g whole rye flour
30g whole spelt flour
Dough
Sourdough II
Soaker
215 g whole rye flour
155 g whole spelt flour
170 g Water (experience bakers can increase the water amount to 190 -200g )
10 g Salt
15 g Malt
For the soaker mix water and sunflower seeds and let it rest over night in the fridge.
Mix the ingredients of the sourdough 1 and let it rise for 14-16 hours at 20°C.
For the 2. sourdough mix all ingredients  and let it rise for about 4 hours at 30°C until it doubles its volume.
For the dough mix soaker (including the accessory  water), sourdough 2, flour, malt and water and let it rest for 30 min. Then knead for 8 min at slow speed.
Let the dough rise for 2 hours.
Divide the dough into two equal pieces, form two round loaves and place them in a 1kg proofing basket.
Let it proof in the fridge for 12-14 hours.
Preheat the oven with baking stone to 250°C.
Place the loaves in the oven. Bake for 30 seconds, then produce a lot of steam in the oven. Bake for 10 min at 250°C, then reduce the temperature to 190°C and bake for about 35-40min.
Let the bread rest for 24 hours before slicing!