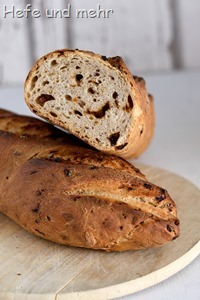 Reader's wishes are a good thing. They often give me new impulses or remind me of – sometime to obvious – breads. And when Julia wrote that a recipe for onion bread would be a fine idea, I was thinking: of course! And for the past long, sunny weekend I started to create a recipe.
A crucial part of onion bread is fried onions. And as I do not like the store bought ones very much I decided to go for homemade fried onions, too. For a better contrast I chose red onions for that. They are fried in oil until all of their water evaporates and are very crips. About 300g fresh onions yields 100g fried ones.
For the form I chose two different ones: the "classical" onion batard and round loaves with a half onion in the middle. These breads are a nice eye catcher for a buffet, but the batards are easier to cut.