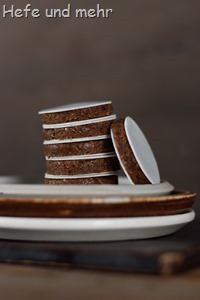 Some time ago Eva made "Rutite" (Fruit bars) for her little nice. The recipe sounded very simple and the needed dried fruits where all in my kitchen cupboards. After an intense search in the depth of my baking cabinet I even found the unloved round wafer paper which sleeps there unappreciated for several years.
As my mixer is really strong, I throw in all ingredients in whole, even the nuts. And after some minutes of mixing and scrapping down the mixture every now and then, the nuts started to release some oil and mixtrue turned into a dough with a similar consistence like marzipan. The rest was easily done: rolling out, cuting circles with an cookie cutter and placing them between wafer paper. And so I could test my Fruit bars soon. It is very delicious – even with wafer paper!
Fruit bars
yields about 10 Fruit bars
50 g dry dates
15 g candid orange peel, homemade
40 g raisins
15 g dried apples
40g haselnuts
round wafer paper
Place all ingredients in a strong food processor and mix until a homogenous dough forms. That takes some minutes of mixing.
Roll the dough to 5 mm and cut out round circles in the size of the wafer paper. Place each piece between two waffer papers.