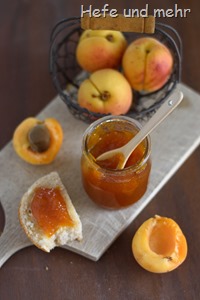 Since last year I'm totally in love with cooking jams without gelling sugar. I love the old fashioned flavour and that I have all ingredients I need (which are sugar and lemon juice) always at hand. No need for extra shopping… And so I change slowly all of our favourite jam recipes.
The four favourite jams here are Blueberry, Red Currant and raspberry, Blackberry und plum butter. Apricot jam is raking not so high but having some glasses around is essential for baking cakes. And so I did not hesitate when there where beautiful apricots on sale last week. As apricots – like blackberries – contain a middle amount of pectin, I choose carefully some not so ripe fruits, to go along with the ripe ones. The reason behind is that unripe fruits have a higher content of pectin. Adding some lemon juice helps with the gelling process as well.
After half an hour of simmering, the jam has a deep apricot flavour which is one million times better then everything you can buy. Even my love was nodding his head approvingly when I was urging him to test. So this jam has the potential to rise high in our favourite list!