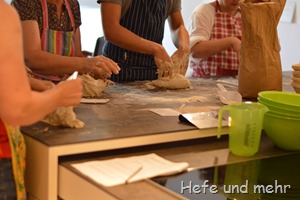 Done! The first two bread baking courses are lying behind us.
The subtitle of the course could be "Some like it hot", too, as the summer came back with full power at the end of  august. Even in the normaly cooler "Bergische Land" we reach temperatures above 30°C. Already at 10 o'clock it was hot, and the three ovens which were already running heated the room additionally. But that does not stop the participants – fearless they all dive into the dough.
And together we baked up a storm. With seven participants of the "Beginner – Course" we baked  in six hours 64 rolls (two different types) and 30 breads (3 different types) and used about 12 kg of flour. With three ovens this need a good time management but we still had enough time for questions, laughter and conversation. And breaks with freshly baked bread, good cheese, olives, snack vegetables and different homemade spreads.
And at the end of the day everyone took a big bag with bread and rolls home.
The best conclusion drew Elke, who said:
"Now I'm able to bake bread at home, too!"
And here are some impressions from the course (photo courtesy by Kristina):
How to knead a sticky dough: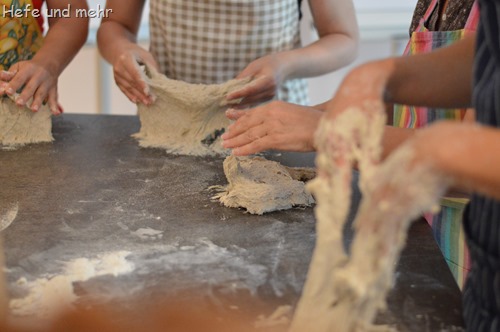 Forming rolls: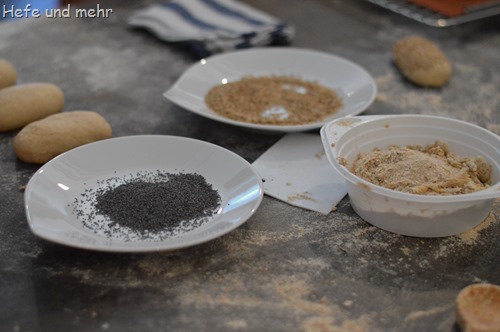 Rolls in the couche: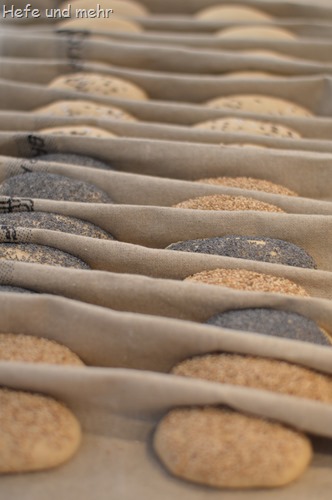 Simple Rolls for Breakfast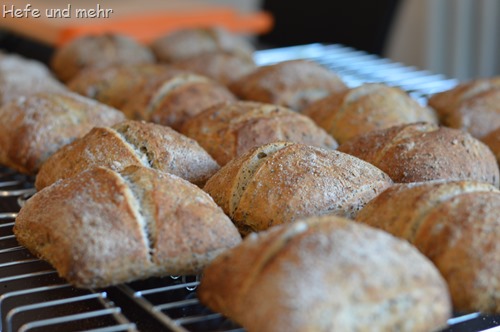 Freshly baked rye bread